List Your Home For As Little As 1%




SELL FOR HIGHEST NET TO YOU



Your home is likely the single biggest investment you will ever make. When selling, it is not just the sale price but the cost of sale that contributes to your NET proceeds. Working with Gerardi Home Pros we manage both by obtaining the best price contract for your home AND we save you thousands of dollars in commissions without cutting corners!


BRANDS DON'T SELL HOMES … GOOD AGENTS DO!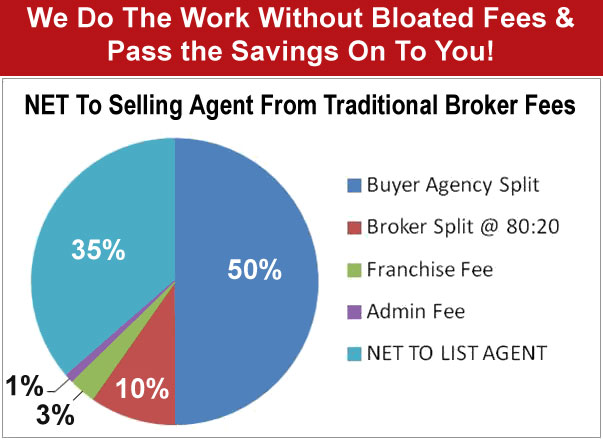 Real Estate Agents are Independent Business Owners. Agents invest in their business, pay for the tools & do the work - not brokers! In fact, most brokers spend the majority of their time recruiting new agents. We spend our time serving customers!

The Gerardi Home Pros are an experienced group of agents offering a full-service program from pre-listing preparation all the way to the closing table. We utilize the latest cutting edge technology, tools and processes to obtain superior results for our clients. The big difference between our business plan and the franchise agent is we dont pay the bloated brand & broker fees.
• More than 15 years licensed Associate Broker
• Local, knowledgeable service to better undertsand the your home's market
• Professional pictures, videos, aerial drone images & real Post sign
• Full color brochures, email marketing & comprehensive social media exposure
• Answer or reply to requests within 30 minutes AND showings within 2 hours
It is our fiduciary responsibility to protect your investment, and we guarantee you the highest quality of service!


SAVE UP TO 3% ... MONEY IN YOUR POCKET!
The Gerardi Home Pros charge as little as 1% commission as the listing agent compared to the standard 3%. The Buyer's agent fee of 2-3% is up to you, incentivizing other agents to bring buyers to your property. Your total commission can be as low as 3% total, adding $1000s to your NET proceeds.

SERVICE GUARANTEE
Contrary to the traditional 6-12 month listing agreements, The Gerardi Home Pros write 4 month listings and allow you to terminate the listing agreement with a 2-week written notice. If you aren't happy with our service, we have not done our job!

OUR HOME SELLING PROCESS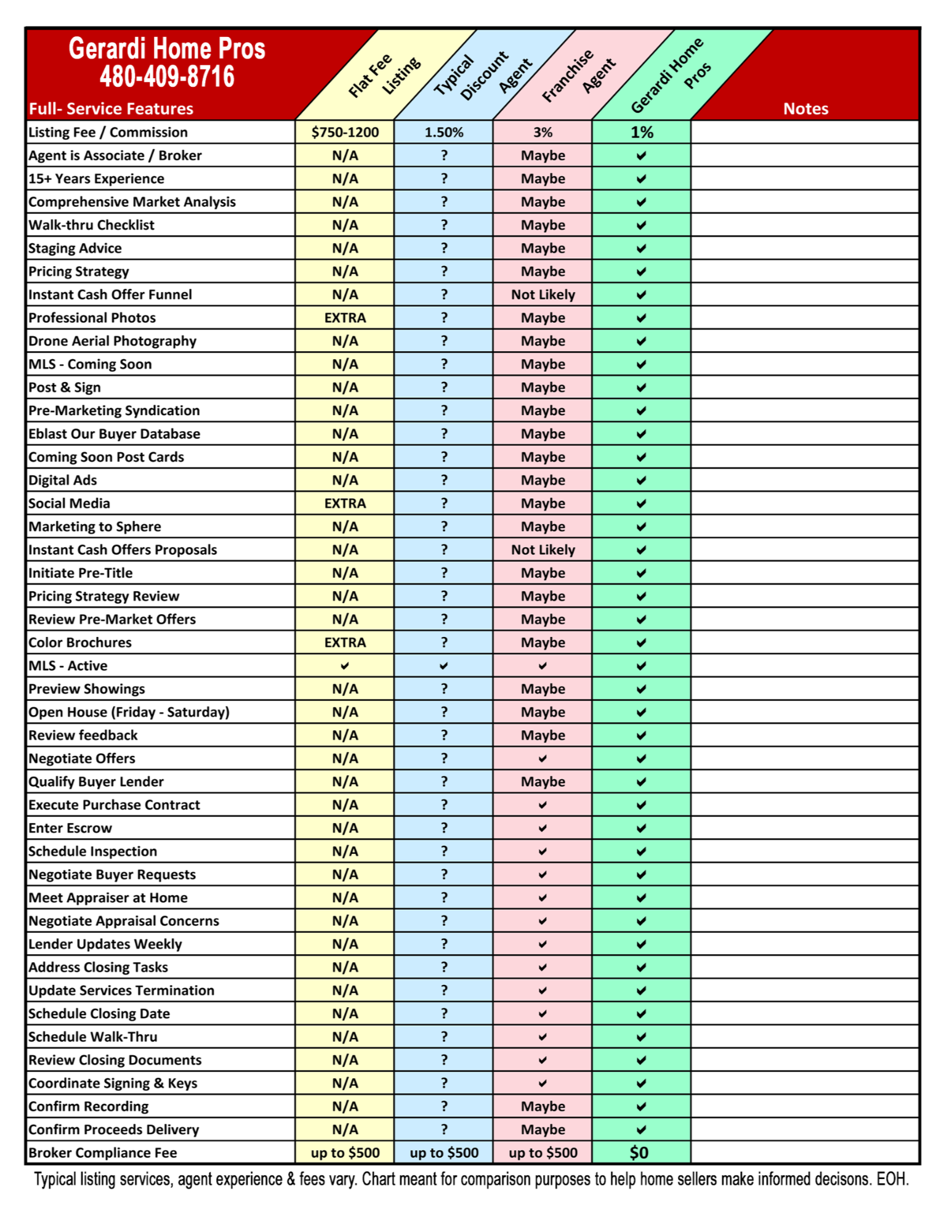 PRE-LISTING
During the pre-listing process, the Gerardi Home Pros help you do everything needed to get your home ready, so it gets sold for the highest and best price in the shortest possible time.
• Highly qualified agent with local expertise
• Assess necessary repairs and updates to your home
• Assist in staging the home to appeal to a broad range of buyers
• Price the home to generate the most interest


WE DIDN'T CUT OUR COMMISSION, WE SHAVED OFF THE FAT!
Unlike traditional real estate companies, the Gerardi Home Pros have no franchise fees, broker splits or bloated package of generic tools. Our team spends all our time and resources on the proven tools that get homes SOLD! Our goal is to market your home in a way that attracts the highest number of qualified prospective buyers in the shortest possible time!

• Extensive Pre-marketing with professional photos, video & 24-7 virtual house tour
• Digital marketing, including eBrochures and targeted emails
• Listing on the region's largest Multiple Listing Service
• Listing syndication to 1000s of sites & Zillow, Realtor.com, Trulia, etc
• Open houses for agents and buyers
• Personalized one-on-one showings
• Extensive social media exposure - Facebook, Instagram, LinkedIn, etc
• Transparent, timely, and detailed feedback from prospective buyers & agents



NEGOTIATING & CLOSING
The biggest challenge in the closing process is negotiating inspection repairs and appraisal shortfalls. Majority of real-estate deals fail during these two phases of the transaction. Our expert team manage the negotiation process while helping you save money and keeping the transaction alive!
• Compare and select the best offer - Price is only part of the agreement...
• Negotiate the best terms (price, contingencies, closing date, etc.)
• Inspections and needed repairs
• Appraisals and mortgage payoff


Receive a Complimentary, No-Obligation Consultation

Request Your Free Personalized Market Report
You may be familiar with the terms CMA which means Comparative Market Analysis and AVM which means Automated Valuation Model. Using these advanced processes, our program will create an instant market report for your property that will take in to account the size and age of your home, the sales within a small radius of your home, current inventory and market trends. This free report will be viewed immediately on screen as well as a pdf copy forwarded to you for your records. This report will give you an idea of the relative value of your home today. Get your CMA

Relative Value of Your Home? Yes, this word relative means that on paper under similar conditions to other properties we calculate the value. But homes are not always similar and have factors that may add or detract from True Market Value. Get your Free Valuation



Complete Your Self-Evaluation


Following the the delivery of the CMA report, we will send you our Seller's Self-Evaluation Worksheet. As the name suggests, the worksheet will organize rating the features of your home for

condition,

quality and value. Some things may add value and some may take away value. More often than not, the self-evaluation worksheet will illuminate things that sellers often overlook in pricing their homes. Request the Self-Evaluation Worksheet

Schedule your Complimentary, No-Obligation Consultation
Once you have decided to sell your home we schedule to meet at your home in order to review your property and the tabulated data together to calculate a more precise value. We are available eves and weekends for your additional convenience. This meeting should only take 60 minutes or so. Schedule Now


Meet with GHP to Review the Data & Set a True-Market Price
In viewing your home together, we will draw on your self-evaluation we will and the walk-thru to better understand the home features & conditions that will directly determine the best price range for your home. Since today's buyers are savvy, we will go over how the features of your home will affect buyer acceptance and ability to attract top dollar offers. We have a very clear document entitled The Sellers Prep Guide To Receive Top Dollar Offers that includes an easy to manage checklist to hep prepare your home for top dollar sale.


The Importance of Getting to the Bottom of True Market Value
Buyers today do a lot of research often watching their chosen market area for months before ever engaging a Realtor.

Ultimately, the market decides what your home's True Market Value is - not instant cash offers, not the Comparative Market Analysis (CMA), not the Automated Valuation Model (AVM), and not Zillow's grossly inaccurate guestimate! There is only one way to best understand your homes True Market Value - that is to have a very local agent go over the data with you in relation to the features of your home tying it to current market forces. Things like neighborhood quality, age of home, updates & upgrades, landscaping, deferred maintenance and other factors.


Let us help you understand the marketing process to obtain best NET sale for you.
Contact us today for a Free, No Obligation consultation.